Which past contestants will be on Bachelor in Paradise Season 9?
Bachelor in Paradise is a franchise spin-off show that takes past contestants from other franchise shows and gives them a second shot at love. There haven't been a ton of successful couples to come out of the show, but there have been a notable few.
While ABC has only just renewed Season 9, there is a ton of speculation as to who from the past could appear on the show, and we're here to talk about it!
Bachelor in Paradise Season 9 potential cast members
In no particular order, here are the Top 17 past contestants we think could end up on Bachelor in Paradise Season 9!
1. Aly Jacobs
I absolutely loved Aly on the show. I thought that she was such a breath of fresh air. She was always kind to everyone, had some great scare reactions every time the doorbell rang with a date card, and was super underrated in my opinion. I'd say that she's got a pretty good shot of being on Season 9!
2. Bailey Brown
Bailey deserves a second chance! Unfortunately, things ended unexpectedly early for her on Zach's season of The Bachelor. I wanted to like her but didn't get a whole lot of time to do so. She was super quiet and reserved, but maybe that's just what a brand new season of Paradise needs! Someone quiet who truly is there to find their person and love at first sight.
3. Brianna Thorbourne
I can see her having that little sort of villainous tone to her, which is something that all of us enjoy watching. Let's hope that nothing too sinister happens with this one…
4. Christina Mandrell
This is another one that I was probably not the biggest fan of, but not in a bad or disrespectful way. I didn't think that she ever really truly fit in anywhere. I thought that her personality was just a bit too much for the regular show. However, I think she'll fit in quite nicely on Bachelor in Paradise Season 9. It does get pretty wild there, am I right?
5. Greer Blitzer
Greer, much like Bailey, deserves a second chance! Greer made some mistakes on the show, but her time away from Zach hurt her chances on night one. I think that she'll be a fun character on the beach, potentially stealing everyone's man away. While I can see her in Mexico, I can also see her not finding someone at the end with her being too out there and picky with her men. Thoughts?
6. Jess Girod
During Zach's season, there were times when I loved Jess and times when all I did was complain about her. She was a super sweet girl who isn't done within the Bachelor Nation franchise. Plus, her ample amounts of body glitter are sure to fit right in, as well as giving Wells plenty of "bar stories" to tell to the rest of the cast and all of America.
7. Katherine Izzo
Overall, I did like Kat. I just thought that some of the things she did were a bit uncalled for. But let's be honest, every contestant has that every once in a while. Katherine was a little shy when it came time to talk about meeting the family. Hopefully, by now and by the time she'd be in Paradise, she's got her stuff together and knows exactly what she wants. I honestly wish nothing but the best for her!
8. Nate Mitchell
In a recent interview with Bachelor Nation, Nate Mitchell was asked if he had ever thought about going to Paradise. And while his answer was less than enthusiastic, I still think that he'd be such a great fit for the beach.
9. Ethan Kang
We have to give it up to Ethan! He was probably one of the most stand-up guys to be on this show. I was super bummed when he got sent home on Rachel and Gabby's season (though he was technically 'dating' Rachel). I thought that he was someone different than we had ever seen before, and I think that bringing him to Bachelor in Paradise Season 9 would just be super fun!
10. James "Meatball" Clarke
Ahhh…the Meatball King himself. Since I'm not a giant fan of his, I am going to keep his description here short but sweet. As long as he doesn't pour any red sauce all over him on the beach, then we're good, he can stay.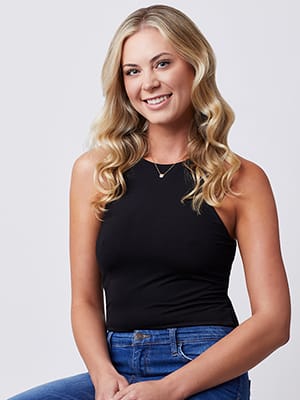 11. Cassidy Timbrooks
She was one of the villains from Clayton's season of The Bachelor. Even post-show, she eluded to the fact that she still hated Clayton. Sometimes this type of person is the most perfect kind of contestant to be on Paradise!
12. Claire Heilig
Claire knew exactly what she wanted, but in all honesty, she could've gone about it differently. I hope that she makes it onto Paradise one day because I can see her messing up the beaches in the most perfect way possible. Thoughts?
13. Salley Carson
She was engaged a month before coming onto the show. She wanted to privately chat with Clayton before night one even began. She decided that it was time to leave. Clayton tried offering her a rose to stay and wait things out. She left anyway. She got the Paradise call. She was just two seconds away from going back to her fiancé and getting re-engaged. She said, "I'll go." She packed her bags. She got in the car to the limo. She went to the airport. She never boarded her flight. She went back home. Her suitcases made it to Paradise, but she did not. She eventually made it to the beach. She stayed 20 minutes. She returned home. Phew…with all this being said, yes, she's been on Bachelor in Paradise once before. However, I believe it's her time to shine, not unless something changes…
14. Susie Evans
Susie was the one who gave Clayton an ultimatum. Clayton didn't abide by the said ultimatum. They parted ways but eventually made things work in the real world…for a short time. However, they are on great terms and have since made some posts together on their Instagrams. Susie deserves only the best, and there are some fantastic choices out there in Bachelor Nation just waiting for her to come down those Paradise steps…
15. Justin Glaze
Yes, I realize that he was on the show already. However, I feel that Miss Genevieve Parisi and Miss Eliza Isichei ruined his experience. I truly think that he deserves a second chance at finding love!
16. Mike Planeta
I love him! He was one of those infamous contestants who shared he was a virgin. Of course, that automatically got him some slack online, and ultimately, he was sent home. He is super supportive of all of his other BN friends and is constantly in posts with them. I want to see him on Bachelor in Paradise Season 9!
17. Rodney Matthews
Last season of Bachelor in Paradise, Rodney was everyone's favorite. Whenever Eliza rejected him, the other contestants hyperventilated over him having to leave the beach. Everyone, literally the whole world, is rooting for Rodney. He was such a breath of fresh air on the show, so let's keep that going and have him on for another year!! He deserves it, and we deserve it!!
That's a wrap on who we think could be on Bachelor in Paradise Season 9!
What do you think or make of all of this? Who is your favorite/front-runner to be on the show next time? Let's chat all things Paradise down below! Make sure to tune in and not miss Charity's journey when The Bachelorette begins on June 26th, 2023, at 9:00 PM EST!